Degree: Bachelor of Health Studies (BHS)
Major: Health Management
Program Option(s): Specialized Honours -- 120 credits
Offered by: School of Health Policy & Management
Description:
With a growing and aging population and demand for more health services, one of the fastest growing professions is that of health care manager. In the health management program, students will take courses in organizational behaviour, health services management, healthcare quality and safety, health system performance, information management systems, as well as health care leadership and decision making. Through these and other courses, you will develop the breadth of understanding and skill that will prepare you for a variety of rewarding and challenging careers in health management.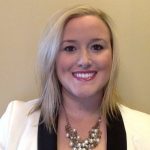 Jennifer Catton
2010 Bachelor of Health Studies (BHS) (Health Management)
Manager, Strategy and Quality, Joint Department of Medical Imaging
Sinai Health Systems – Women's College Hospital
Within four months after graduating from York University's Health Management program in 2010, Jennifer Catton started as a Business Analyst with the Department of Medical Imaging, which spans University Health Network, Sinai Health Systems and Women's College Hospital. She was part of a team that used new technologies to reduce patient wait times at MRI departments, ultimately saving $2.5 million each year. She later moved on to a position within the same department as a Senior Analyst where she was responsible for developing the department's strategic plan. Today she is Manager, Strategy and Quality, Joint Department of Medical Imaging at Sinai Health Systems – Women's College Hospital where she oversees a team of eight analysts monitoring quality improvement and the patient experience for patients served by the medical imaging department for such services as X-rays, MRIs, CT Scans and Ultrasounds.
"I continue to use the knowledge and skills I learned in the health management program at York. Each professor brought the course material to life through expertise and a passion for the subject matter. They not only gave me the skills and tools I needed to succeed but also instilled within me a strong motivation to make a difference."
Potential careers with a BHS degree with a major in Health Management.